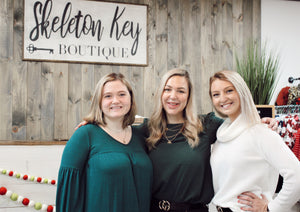 Skeleton Key Boutique - The 570 Blog / Business Showcase
Hello everyone,
I am Ashley Foltz and I am the owner of Skeleton Key Boutique. We opened online in the Fall of 2018 and expanded to a brick and mortar store in May of 2019. Prior to opening up my boutique I was practicing locally as a Physician Assistant in Internal Medicine. I grew up in Lock Haven and love the fact that I have been able to stay locally and live out my dream of owning my own business. I am also married to my incredible husband Art Foltz and together we have two little boys Hudson and Beckett.
It is true what they say, owning your own business is not easy. Trying to balance every day life, two little boys and a business can be trying to say the least. I absolutely love what I do though, and truly wake up every day feeling grateful. I have always had a love for helping people, hence my choice to go into the medical field. I love that I can still go in and do that, but also feel that I am able to still help people in other ways with my business, especially woman.. We have built a community of women that are positive, encouraging and empowering. A place anyone can come in and shop, post a picture online or just share a personal story or victory with our community and be met with nothing but positivity. Watching woman find that perfect piece of clothing and come out with a confident smile on their face will never get old to me!
If there is one thing that I wish I would have known or done when starting my business, it would be to set actual business hours and stick with them. I would tell any new business the same. I have yet to conquer that. If you know me, you know I work 24/7 unless with my family. This business is a true passion of mine and I truly give it my everything. 

I was born and raised in Lock Haven, I went to school and obtained my degrees at Lock Haven University and that is where I have chosen to stay and raise my children. I have always loved and appreciated that close-knit community that we have here. I love the fact that I can go in almost anywhere and be greeted with a smiling face I know. Most recently with the unfortunate circumstances of 2020 I have seen a community come together and reinvent themselves once again. There has been a huge push to support our local small business and also put a fresh face on our downtown area. To make it a special place not only for it's citizens, but also a place that people want to come visit. For that reason I have felt a longing to be a part of that movement. So, while we have loved our previous location and serving our amazing customers, family and friends. We hope that our new location downtown, as part of the downtown community we are able to continue to serve our amazing community as well as others. 
Follow Skeleton Key Boutique on Social Media
---